Zirconium is a specially designed dental crown or bridge in high-tech 3D computer systems (CAD/CAM) and special dental CNC machines. Zirconium is a very hard material, highly resistant to abrasion and biocompatible material, and has started to be used in dentistry with the development of computer technology and 3D modeling systems. They are used as a heat shield in space shuttles and also for the construction of engine parts thanks to these properties. Today, they are preferred aesthetically due to their white color and light transmittance, as they provide conveniency and durability to support the upper porcelain layer instead of metal infrastructures.
When is zirconium crown indicated?
Zirconium is used in cases of excessive caries and material losses that the teeth require crowns, bridges or implant crowns in the lack of teeth, in the presence of situations requiring smile design or aesthetic intervention such as discrete teeth (diastema) or crooked teeth.
How is zirconium crown made?
Dentist takes impressions after making necessary arrangements such as tooth preparation in the region where crowns will be inserted. On the cast model obtained from taken impressions, three-dimensional scanning is performed with a 3D scanner(CAD/CAM). Planned bridges, veneers/crowns or prostheses are modeled in computer program and transferred to CNC machine. The machine obtains the engraved zirconium substructure by milling over the zirconium block. The prepared zirconium substructure is adapted to the model and the ceramist technician puts porcelain onto substructure to form crowns with aesthetic and chewing function. Finally, the dentist performs this zirconium-based prosthesis in the mouth by making the final arrangements and cementation.
What are the advantages of zirconium crowns?
Zirconium is one of the most biocompatible materials. They are perfectly compatible with gums and oral tissues. It is very advantageous in terms of aesthetics due to its white color and light transmission. It does not cause much aesthetic problems about gingival recessions that may occur in future years. The bruising on the gums due to oxidation, which can be seen from time to time in metal infused porcelain crowns, does not occur with zirconium and it does not cause a bad taste. It does not allow bacteria to adhere to the surface. Compared to the expansion and adjustment problems due to the casting process in the production of metal infrastructures, they are more adaptable to fit on prepared teeth because they are completely computer-aided.
Are there disadvantages of zirconium crowns?
Although zirconium is a hard material, they can have brittleness due to lack of flexibility compared to metal. They should not be preferred for very long bridges, although their fracture resistance allows them to be easily used in the mouth. Your dentist will make the distinction and decision.
How long does zirconium crown preparation take?
The laboratory stages of zirconium crown production takes approximately 4-5 days. Including teeth preparation, reshaping the teeth, taking impressions, planning, fitting and final cementation, it may take around a week.
How long is the life-time of a zirconium crown?
Zirconium crowns are very resistant to abrasion. They do not lose their color and brightness. The life-time of a zirconium crown depends on the health of the oral tissues and the condition of the existing teeth.
Ask the dentist
Ask your questions to Prosthodontist Dr. Melih Şengül about Zirconium Crowns and general dental treatments via the form below: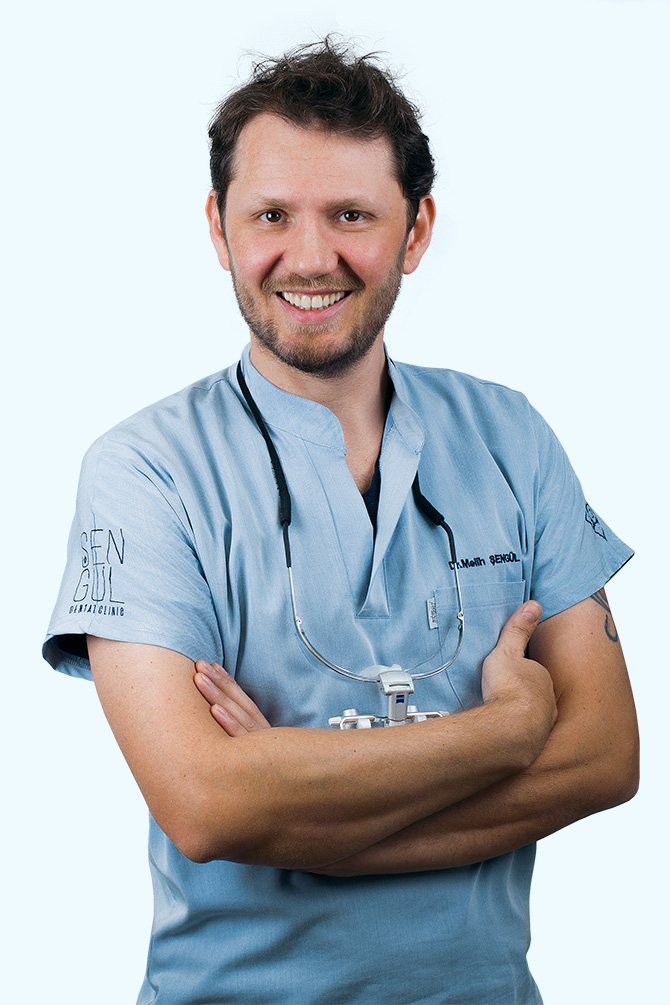 Make an appointment
You can make an appointment by calling 0 (216) 355 36 57 or clicking the button below.